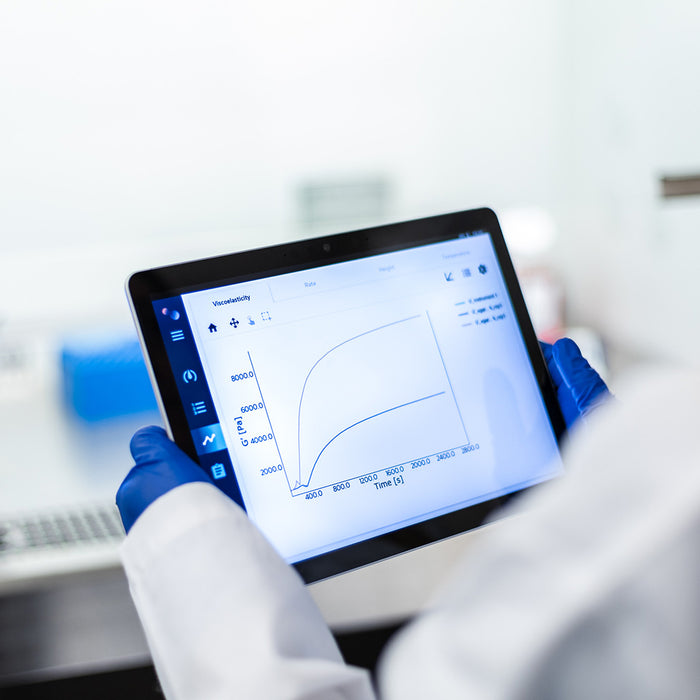 Connectivity & Monitoring Tablet
Original price
$1,200.00
-
Original price
$1,200.00

Touchscreen tablet that gives access to the App that operates all our instruments: ElastoSens™ Bio, CoaguSens™ Flex and the CASCADE.S family of instruments. Each tablet can simultaneously communicate and manage up to 5 different instruments. The tablet and the App allow to:

• Set tests (time, temperature and light) and measurements;

• Visualize and compare in real-time experimental measurements;

• Create and transfer reports;

• Display measurements and built-on calculations: steady measured properties of materials, transient viscoelastic properties of materials with changes as a function of time, temperature or light (when applicable), calculation of kinetics rate (first derivative as a function of time);

• Measurement and display in real-time of sample height on the ElastoSens™ Bio and CoaguSens™ Flex;

• Adjust the temperature and photostimulation settings (when applicable);

• Customize and manage password-protected user accounts;

• Customize and manage roles with different privileges (writing, reading, data transfer);

• Assign roles to users;

• Customize and manage instruments remotely connected to the Tablet App: pairing, configuration, displayed name and color;

• Export of the extensive and secured database of the instrument;

• Simply update software.