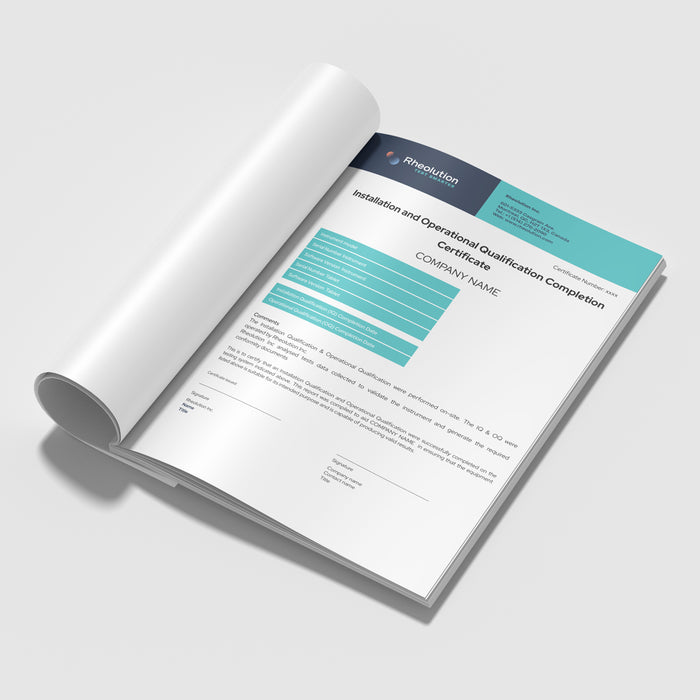 Installation Qualification (IQ) and Operation Qualification (OQ)
Original price
$0.00
-
Original price
$0.00
IQ and OQ are performed during installation of the system.
These procedures take three (3) days. Operation Qualification (OQ) includes certified calibration. The principle of the certified calibration is to realize a series of test on each sensor and actuator and to compare the result with official target results and the accepted tolerances of the system. Corrections are made to correct any deviation. Rheolution's Customer Support Engineer will travel to the customer's site to perform the calibration and maintenance of the equipment onsite over 2 days. These certified calibrations are recommended to be performed once a year. Type of calibration and verifications realized include:
Calibration of the temperature probe
Calibration of measurement of temperature in sample
Calibration of sample height measurement
Calibration of mechanical excitation
Calibration of optical probe
Verification of conformity of the vibration frequencies
Verification of conformity of the optical probe frequency measurement At the end of the calibration process a set of certificates of calibration and conformity is issued. The annual maintenance service also comprises:
The general inspection and cleaning of the instrument.
Replacement of consumable items in the toolbox (anti-evaporation covering liquid, and small missing parts).
Annual calibration as outlined above.
Production of Certificates of Calibration and Conformity.