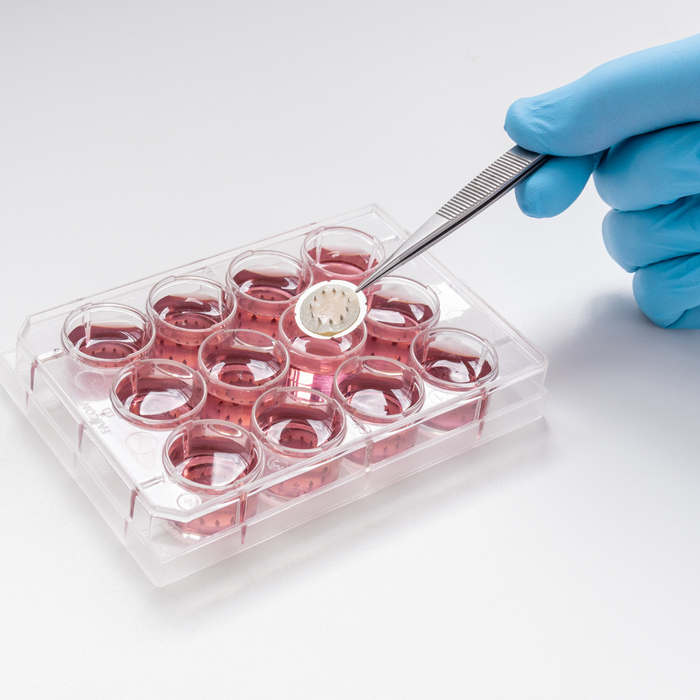 Membrane Sample Holder Kit
Original price
$3,500.00
-
Original price
$3,500.00
Test the mechanical properties of your membrane-like samples (thin layers) composed of soft polymers, hydrogels, bio engineered tissues or soft organ tissues using the membrane sample holder of the ElastoSens™ Bio. This device allows the loading of the sample and the testing of its shear storage modulus over short or long periods of time under sterile conditions. Mechanical testing with the ElastoSens™ Bio is non-destructive and contact free. Membrane sample holders are compatible with 12-well plates in which samples can be stored and kept sterile between mechanical measurements on the ElastoSens™ Bio.
The Membrane Sample Holder of the ElastoSens™ Bio is used to test membranes inside the following dimensional range:
Thickness: between 250µm and 3mm
Diameter: 16 mm
The kit contains:
Three (X3)  autoclavable and reusable membrane sample holders;
Three (X3) autoclavable and reusable sample loading systems specifically designed to facilitate the attachment of the membrane to the holding grip under sterile conditions and without deforming the membrane;
Three (X3) autoclavable and reusable mechanical adapters to connect the membrane sample holder to the ElastoSens Bio;
Three (X3) autoclavable and reusable punches to cut (if needed) the required diameter of material sample from a larger membrane sample;
One (X1) preparation mechanism to prepare the membrane holding grips;

All parts are reusable, autoclavable and easy to assemble thanks to their innovative snapping system.

Crafted with meticulous precision and engineered for optimal functionality, this membrane sample holder is indispensable tools for scientists and researchers studying the mechanical properties of  membrane-like biomaterials, soft polymers, and membrane organs tested ex vivo.