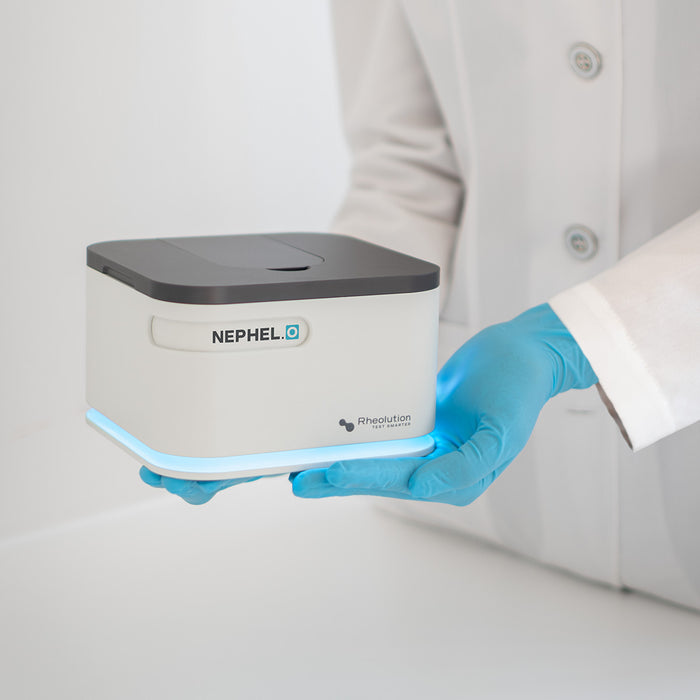 NEPHEL.O™ - Core Unit
Original price
$3,500.00
-
Original price
$3,500.00
THE FIRST FULLY CUSTOMIZABLE NEPHELOMETER
NEPHEL.O™ is the latest innovation in turbidity measurement, providing a fully customizable, adaptable, scalable, connectable, actionable, and data-driven optical instrument. As part of our CASCAD.S™ instrument series, the device uses interchangeable cartridges at different wavelengths, allowing you to easily and accurately measure turbidity at a variety of scales.
You can build and augment your nephelometer as you need, when you need! Select the optical cartridges of your NEPHEL.O™ that meet your current application. Augment the capabilities of your instrument by adding new cartridges when desired. Scale your nephelometry testing system as your lab and operations are growing:
Select and use the emitter or receiver optical cartridge that meets your specific application
Place and remove interchangeable emission and reception optical cartridges with specific wavelengths
Order new optical cartridges as your applications evolve with time
Use the sample holder that suits your specific application: 10, 4 or 2 mL vials, cuvette or PCR-tube
Place your

NEPHEL.O™

under a flow hood and operate it remotely using the wireless communication of the tablet
Benefit from the unique data acquisition and processing capabilities of the Soft Matter Analytics App
Add, at any time, new units to your system as your testing needs and applications evolver
Simply pair new

NEPHEL.O™

units to your existing system
Up to five (05)

NEPHEL.O™

instruments can be controlled from the same tablet running the Soft Matter Analytics App
Each

NEPHEL.O™

unit of your custom-built system can operate using a different set of cartridges
Each

NEPHEL.O™

unit operates independently from the other units of your system
Range nephelometry: 0 FTU to 200 FTU
Light Source / Light Detector: Laser / Si PhotoDiode
Emission cartridges: 850 nm, 635 nm, 520 nm and 405 nm
Measuring mode: Kinetics over time or single point measurement
Sample volume range: Vials: 2, 4 or 10 mL, Cuvette: 4.5 mL, PCR-Tube: 200 µL
Custom time steps between measurements: 7 seconds to 60 minutes
Custom total measurement time: 10 seconds to 240 hours
Environment: 15°C to 30°C; max 95% RH non-condensing
Power Supply: 100-240 VAC (±10%), 50 – 60 Hz, 1.5 A max
Dimensions: 146 x 146 x 94 mm (W x D x H)
Weight: 1.6 Kg (depends on configuration)
10.5'' Windows tablet with protective cover: 245 mm x 175 mm x 8 mm
Operating software: Soft Matter Analytics™ software
*PLEASE NOTE THAT THE INSTRUMENT IS SOLD ALONE AND THAT YOU NEED TO SELECT EMISSION OPTICAL CARTRIDGES, RECEPTION OPTICAL CARTRIDGES AND A CONNECTIVITY & MONITORING TABLET TO COMPLEMENT YOUR INSTRUMENT.